please listen to our advent meditation
GIFT TEAM (Growing together in faith)
Our GIFT Team has a very high profile in our school and we are now on our fifth team of Pupil Chaplains. This year Holy Saviour has a dedicated team of 6 Pupil Chaplains who have a vital role to play in enhancing the Religious Life of our school. Each member of the GIFT Team has to apply for this important job and is interviewed by the Headteacher and the retiring GIFT team. Our Pupil Chaplains are easily identified in school by their special GIFT Team jumper and when they serve on the altar at Mass, they are proud to wear their blue cincture so the parishioners know they are a Pupil Chaplain. Our GIFT Team work hard to promote our Catholic faith in school but they are also a wonderful link between the school and our parish.
The job of Pupil Chaplain has a very high profile in school and some of the tasks these pupils carry out include welcoming new pupils and staff to our school, leading Masses and Liturgical events, delivering whole school morning worship through the school broadcast system and leading fundraising initiatives.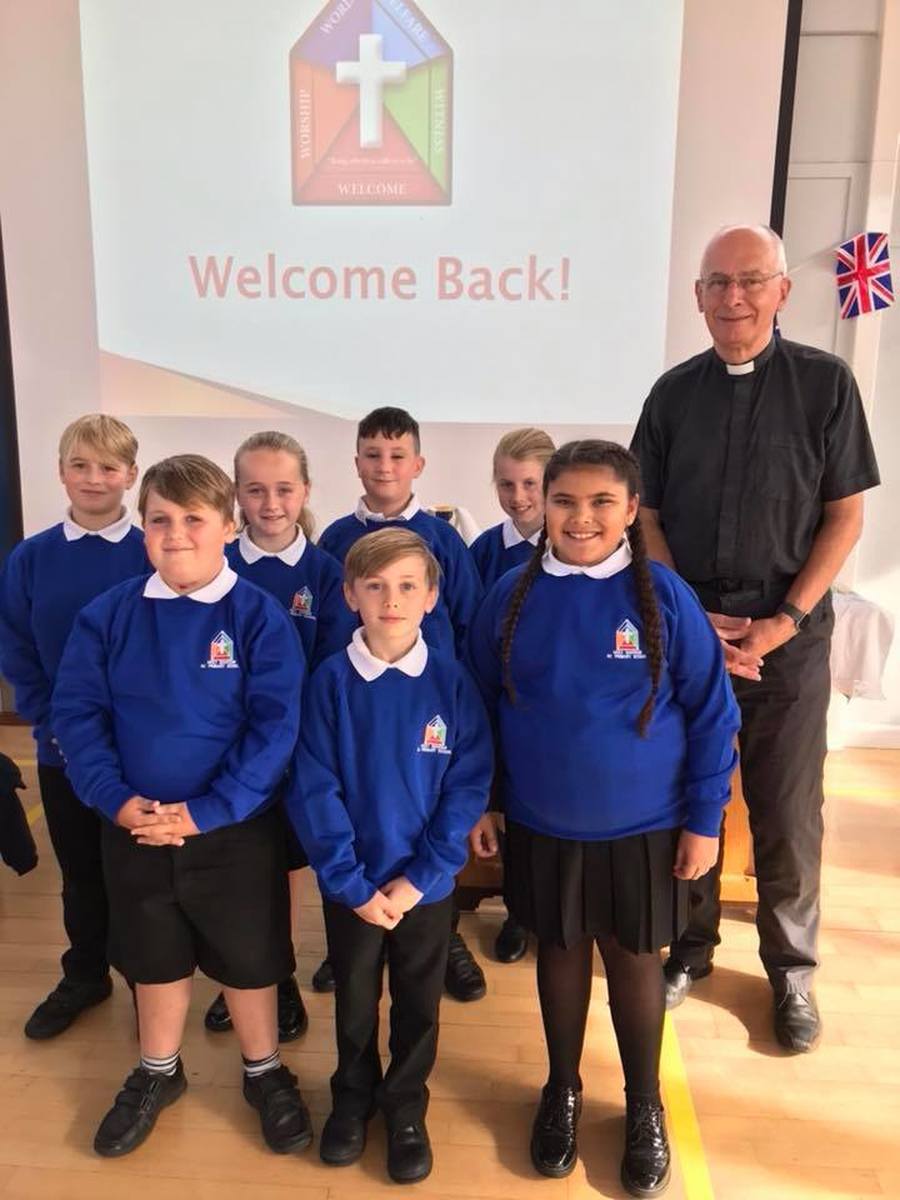 Our 2017-2018 GIFT Team with Bishop John+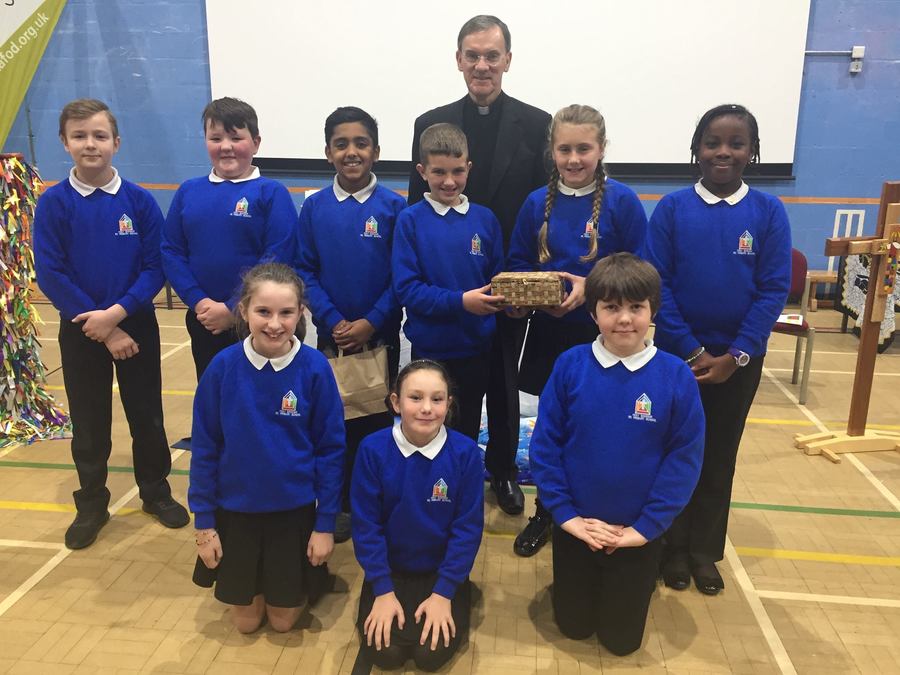 3 of our Pupil Chaplains enjoyed another wonderful opportunity to meet Pupil Chaplains from across the Diocese in July.
Inspired by the Sunday Gospel about using the talents God has given, the Pupil Chaplains decided to produce 'Chaplains Got Talent'. This was a wonderful way to showcase a small selection of talents that God has given us. It was a thoroughly enjoyable show that could well become an annual Holy Saviour event!
The Pupil Chaplains face the 'Dragons Den' (Mrs Nield, Fr. Chris and Miss Durkin pretending to be a bit scary) to bid for the money needed to decorate their School Chapel. The panel was tough, but the bid was successful and the chaplains got the money! The Pupil Chaplains are pictured in the School Chapel that they designed.
Our Pupil Chaplains hand over a £500 cheque from our sponsored bounce to Derian House Children's Hospice.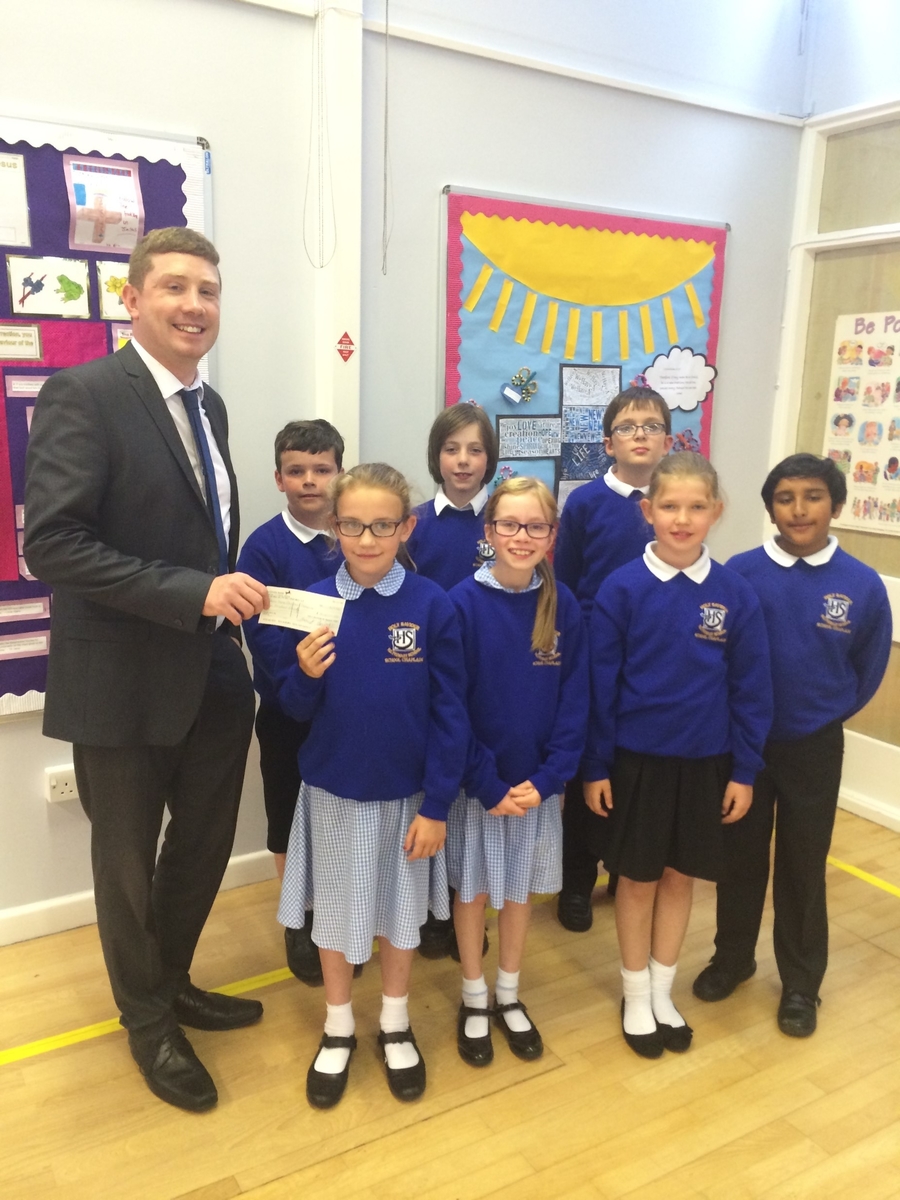 Our former Pupil Chaplains were lucky enough to meet Bishop Brain at a wonderful Diocese Pupil Chaplaincy event in June. The children enjoyed sharing their ideas and to our parish family too. gaining further ideas about how to develop the Pupil Chaplaincy in our school.
Do you want to be a School Chaplain?
Meet the panel of interviewers! Our retiring Pupil Chaplains ready to grill the new recruits!